Hilton Garden Baytown
Phone: 281.838.8208
Corporate Account/Special Rate Code: 3198512 (TEPCO LLC)
Take advantage of our corporate partnership and stay for only $99/night with complimentary breakfast.
Less than 4 miles from our office.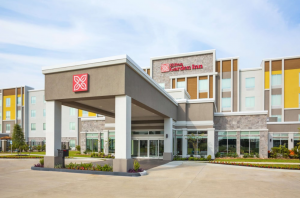 Hertz
Phone: 281.421.1130
Enterprise Rent-A-Car
Phone: 281.428.7777
Eat like a local at these hidden gems tucked around town!
The Cuban Cafe
Phone: 281.242.2233
4232 Decker Dr, Baytown, TX 77520
Authentic Cuban Food Prepared Fresh & Served Fast! Amazing Cuban Coffees too!
El Rey Pupuses Tacos y Mas
Phone: 281.917.4561
5622 Garth Rd, Baytown, TX 77521
Homemade Pupusas of all kinds; pork, bean & cheese, rajas, loroco, fajita, etc., along with other Honduran Specialties.
Shogun Baytown
Phone: 281.421.5988
5075 Garth Rd, Baytown, TX 77521
Hibachi, Sushi, & the Best Fried Rice! Prices are unbeatable & the service & food are top-notch!
Delia's Signature Bakery
Phone: 281.4203484
28 Harold Ln, Baytown, TX 77521
Breakfast tacos made from scratch that are out of this world! Fresh ingredients & the best service around, from Delia herself!
Nara Thai Dining
Phone: 281.839.7277
4505 Garth Rd, Baytown, TX 77521
Authentic Thai at unbeatable prices. A must try!
Dickey's Barbecue Pit
Phone: 281.421.3101
6110 I-10, East Fwy, Baytown, TX 77521
Smoked in house daily! Fall of the bone ribs, juicy brisket, creamy mac & cheese, and much more!